Anchoring its development in a future of better patient-care
1970-01-01 08:33:40
March 12, Rio de Janeiro
- The 2nd World Endoscopy Congress ("Endo2020"), one of the biggest congresses worldwide with the unique focus on digestive endoscopy since 2017, was held in Brazil this year. It marked a tremendous milestone for SonoScape. For the first time on the global stage, the company participated in the show with a newly completed portfolio. Besides the flagship 350, 500 and 550 endoscopy systems paired with gastroscopes and colonoscopes, SonoScape took great pride in showcasing its duodenoscope as well as their endoscopic ultrasound solution including radial and linear scopes.
Since 2012 SonoScape has been well known as the top ultrasound provider globally, but they refused to be limited by their own shadow. As a result, the SonoScape endoscope department was established. Amongst the Japanese giants in flexible endoscopy, they were well aware of their latecomer status in the game. However, it wasn't simply chutzpah – the decision was made on a solid, R&D-based company culture by a group of leaders who were willing to push forward.
The effort started to pay off shortly after SonoScape's High Definition endoscopy systems were introduced to the market. Later, the break-through product HD-550 also received many appraisals. Pairing with the multi-LED light source, the system delivers a noticeably upgraded performance, under both White Light and chromoendoscopy SFI/VIST modes, in diagnostic or therapeutic procedures.
One of the SonoScape's hands-on station at Endo2020
But in Endo2020, this was not all. Stepping into the company's booth, adjacent to the exhibition hall's entrance, you could easily spot the newest addition to SonoScape family: The duodenoscope ED-5GT. A scope allowing ERCP procedures, extending the reach of endoscopists in the pancreas and bile duct, and opening up many more possibilities. ERCP has become the preferred technique for the management of patients with a variety of benign and malignant pancreaticobiliary disorders
1
. Following the industry's trend and FDA's recommendation
2
on this sophisticated tool, SonoScape designed a removable cap, so the risk of infection could be largely reduced. ED-5GT was then tested in the congress' specially designated hands-on platform in an ERCP stenting model, under the guide of Dr. Patricia Exposito from São Paulo.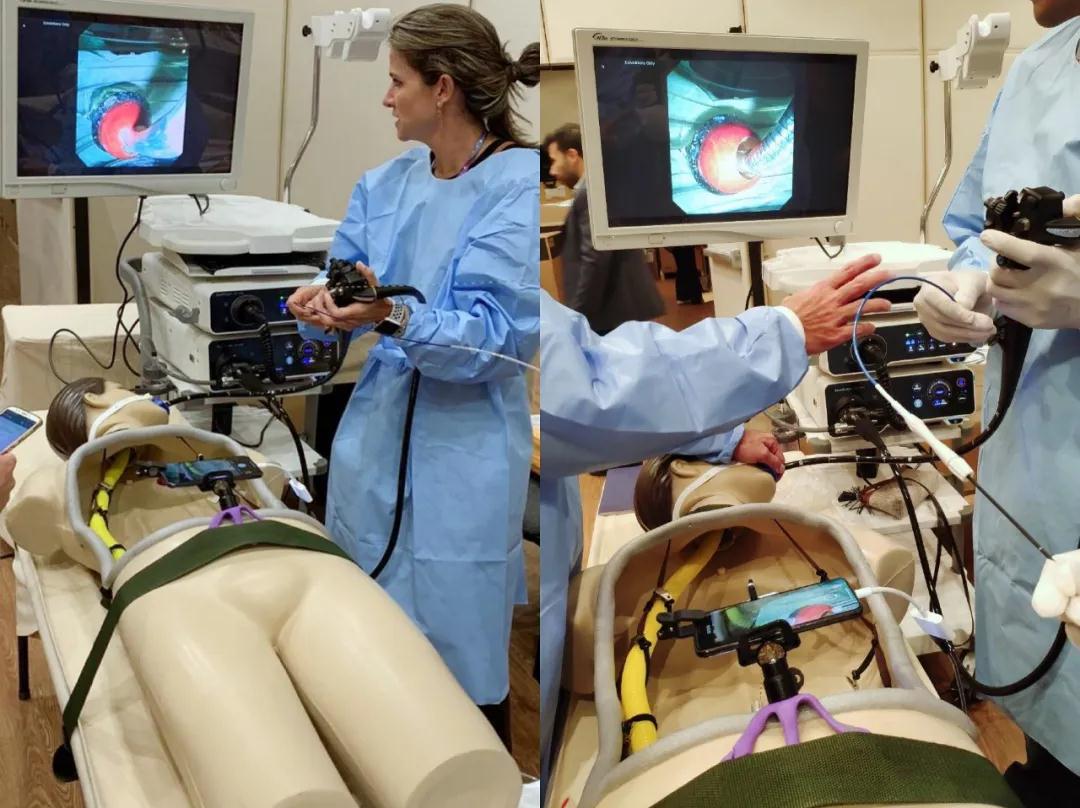 Duoendoscope ED-5GT was tested in a guided hands-on platform in an ERCP stenting mode
And SonoScape didn't stop there. On the grounds of its decades of expertise in ultrasound, they debuted a new line of echoendoscopes.SonoScape's linear echoendoscope EG-UC5T made its first-ever appearance in the southern hemisphere. As the sister of SonoScape's CE-marked radial echoendoscope, it performed marvelously in the Marvellous City, showing excellent image on both ultrasound and endoscopy screens, throughout the EUS-FNA/FNB hands-on session. EUS-FNA(Fine Needle Aspiration) is fundamentally indicated for all diseases where collecting cells from the lesion makes it possible to determine a treatment strategy,
3
while EUS-FNB (Fine Needle Biopsy) may further increase the specimen adequacy for solid mass lesions.
4
What a privilege for SonoScape: a few world-class EUS experts taught and have given quite positive comments in this session, including Dr. Michael Wallace, Dr. Mouen Khashab, etc. The arrival of linear echoendoscope into SonoScape's product portfolio indeed extends exponentially the company's path into more large corporate hospitals.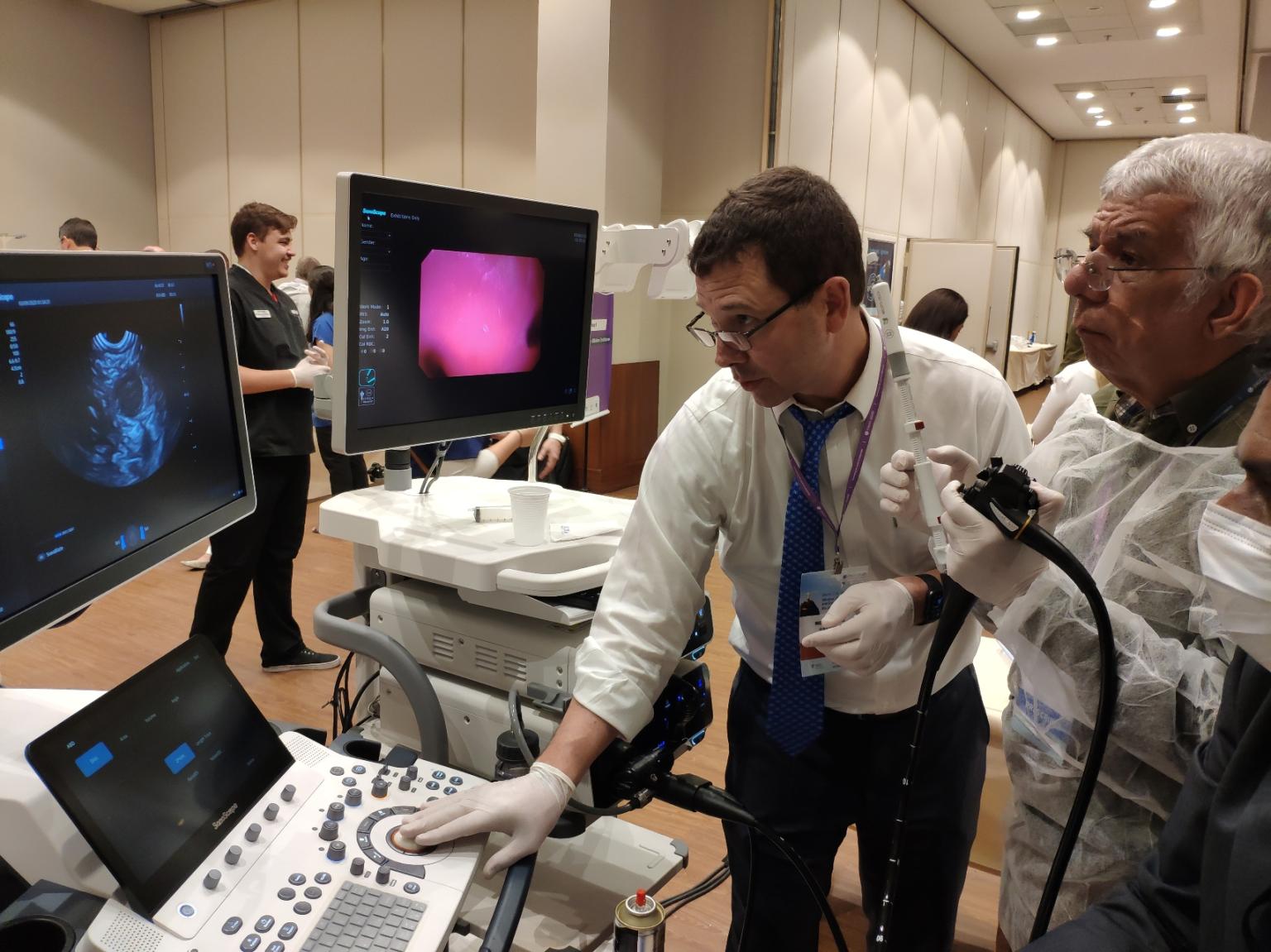 Using SonoScape EUS Linear scope to teach EUS-FNA
Thiago Ramos, Managing Partner of Endotécnica, SonoScape's business partner in Brazil speaks highly about SonoScape's participation in Endo2020: "Having worked for 12 years on flexible endoscopy, SonoScape's outstanding competence and long term commitment still impress me every day. We are achieving some amazing results in Brazil with the launch of HD-550, I am confident that the new ED-5GT and echoendoscopes will set us to a higher success. It is such an honour to be a part of this growth and to witness the rising of another elite player in the endoscopy industry."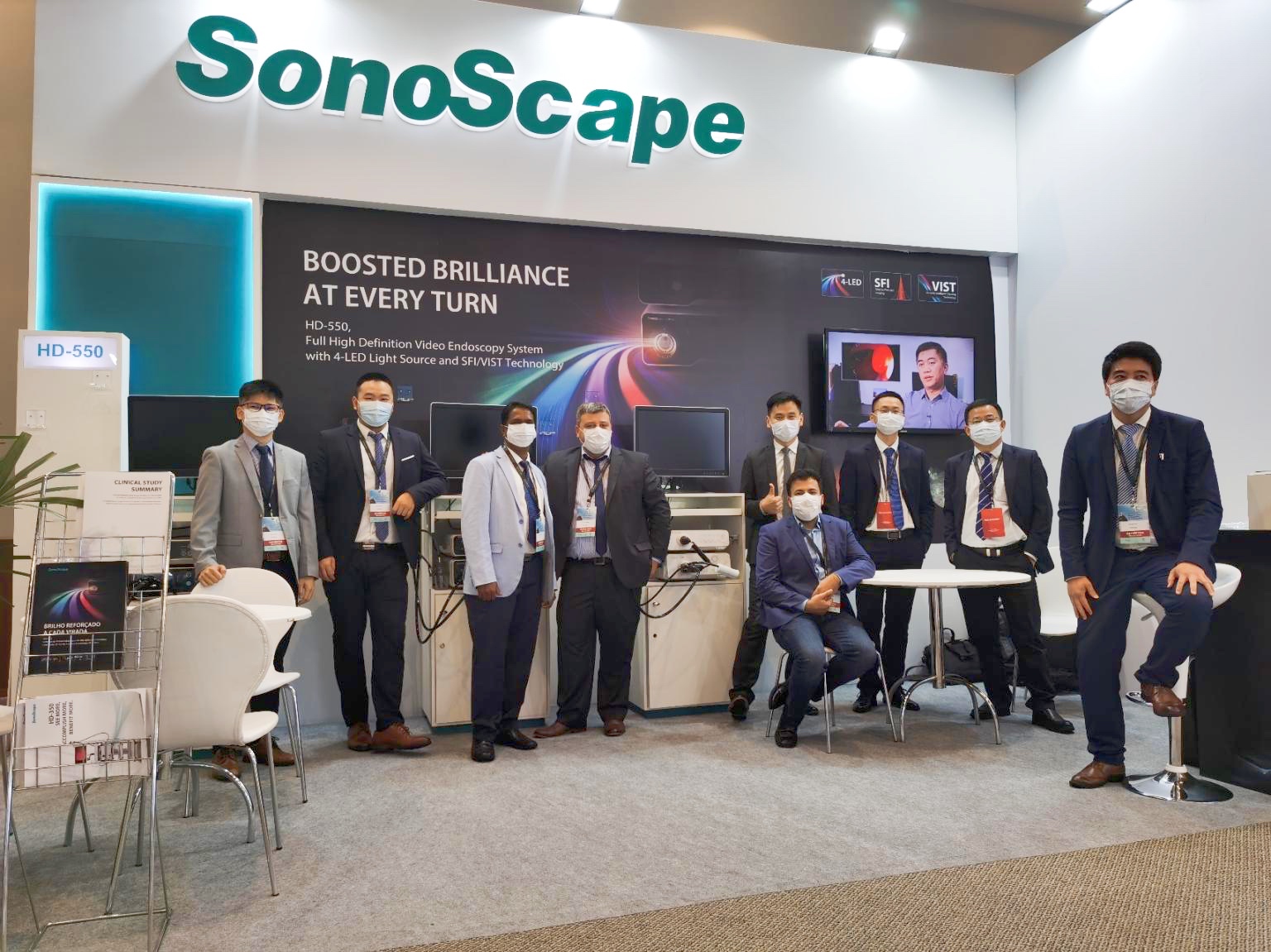 1. Baron
et al.
ERCP(3rdEdition) (Book).
2. https://www.fda.gov/medical-devices/safety-communications/fda-recommending-transition-duodenoscopes-innovative-designs-enhance-safety-fda-safety-communication;Consulted on March 12, 2020.
3. Matsumoto
et al. WorldJ Clin Cases.
2019.
4. Aadam
et al. Endosc Int Open
. 2016.