Preeminence and Innovation: A Glimpse of Medica 2022
1970-01-01 08:33:42
Themed "Where Healthcare Is Going", the well-renowned assembly attracts unremitting attention around the world from November 14th to 17th. SonoScape demonstrates strength in the four-day accumulation of wisdom and ingenuity in Düsseldorf, Germany.


1 Healthcare Accessibility for the World
SonoScape aims to simplify doctors' workflow and help provide accessible medical care. SonoScape has released a wide range of portfolios in the field of Ultrasound, Endoscopy, and Minimally Invasive Surgery.

AI-Powered Deliveries:
Up with Prominent Functionality
The strategic innovations and applications based on AI are designed to help reinforce the preeminent functionality of products in screening and measuring, maintain maximum production stability, and allow users to receive explicit guidance during the examination.
Based on deep-learning technology, SonoScape S-Fetus 4.0 features prominently in the obstetric screening assistant of fetal biometry. S-Fetus 4.0 improves its assessment capabilities with the database expansion of over one million standard images. It is able to acquire 14 standard sections and 12 standard measurement items with one simple touch.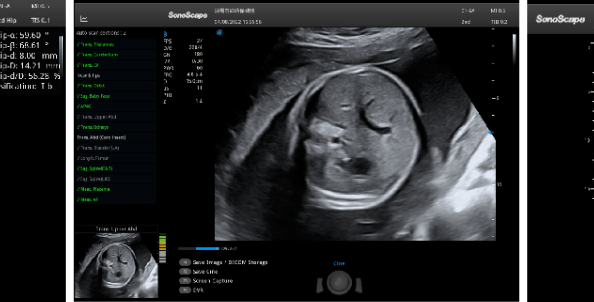 The AI-based automated measurements remarkably elevate daily workflow, ensuring a smooth user experience. The adoption of AI technology on P60 Exp not only simplifies the workflow greatly but also provides enhanced reproducibility and consistency in measurement.
Powered by the Wis+ platform, P60 Exp offers exceptional image display and user experience from the integration of artificial intelligence technology. This year, the AI functions designed for holistic care now extend to a broader range of applications, such as breast & pelvic health, cardiology & pediatrics care, etc., which help achieve higher sonography performance.
P12 Elite Series: Enhance Capability
for Primary Care
Designed to make it easy for healthcare providers of all levels, from senior to primary practitioners, to manipulate the machine, SonoScape P12 Elite series shine throughout the on-site showcasing at Medica this year.
Leveraged with new artificial intelligence algorithms and improved imaging processing capabilities, the built-in ultrasound platform is able to annotate data faster than ever with more accurate data analysis, benefiting frontline clinicians to speed up the whole examination with fewer keystrokes and markups, quickly guide clinical judgment, and empower clinicians with better outcomes.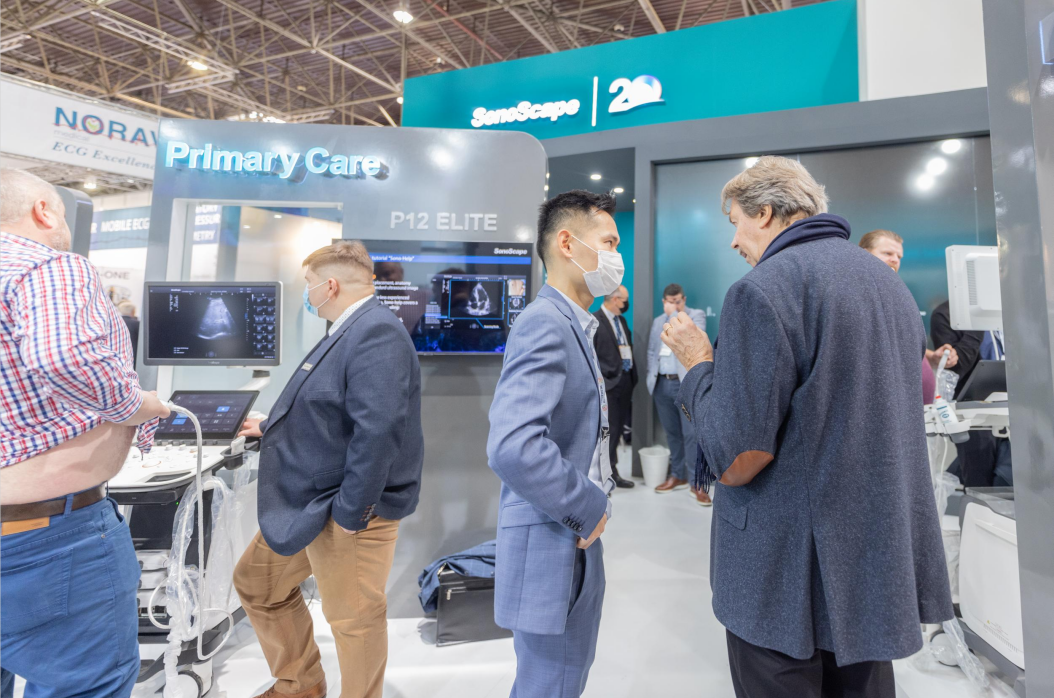 Primary Care at Medica
ProPet 70: Diverse Solutions
for Multi-Species Veterinary Care
With 20 years of contribution to the ultrasound industry for human care and the mission for a healthier world, SonoScape displays its care for animals as well. SonoScape has been devoted to exploring the veterinarian's key demands, creating a better vision for multi-species veterinary care.
At the exhibition, SonoScape introduces ProPet 70 to the world. Combining premium performance with good value in mind, the brand new ProPet series are rolled out to help improve diagnostic accuracy and meet diverse needs for veterinary practices.
Broader Endoscopy Portfolio:
Stretch the Edge of Imagination
In recent years, the engineers at SonoScape have managed to combine the company's know-how in ultrasound with our newer specialization in endoscopy, to create remarkable diagnostic and therapeutic solutions that encompass a large array of endoscopic operations. Amongst them, the flagship high-definition HD-550 system has been endorsed by experts around the world, the 4K system has quickly attracted attention in operating rooms in the past 18 months, and the entire endoscopic ultrasound portfolio finds itself under the spotlight.
Our EUS product line officially debuted in 2019, when the 360° radial-array echoendoscope EG-UR5 obtained its CE Marking, making SonoScape the 4th company in the world to master the core technology of EUS. With the arrival of the linear-array echoendoscope EG-UC5T, SonoScape users are not only able to perform adequate tissue sampling, but also various therapeutic interventional endoscopic procedures under its sonographic guidance.
To create an excellent visual field for surgeons, now there is an option to add an ultrasound guidance to SonoScape's MIS solutions. Thanks to the powerful image processor SV-M4K30, it enables an immersive experience with exceptionally detailed images, and a surgery with efficiency and accuracy.

New Additions to Endoscopy Portfolio
While showcasing the achievement, the exhibition also served as perfect opportunity for us to unveil the new additions to its endoscopy portfolio, created to answer a wider demand from today's endoscopists.
The versality of SonoScape's slim scopes EC-P560 series are the go-to scopes for facing colon narrowing, stenosis and volvulus, or geriatric patients etc. The 11.5-mm diameter insertion tube is equipped with waterjet, Alterable Tubing Stiffness ( "ATS" ) and Precise Force Transmission ( "PFT" ) technology.
With an insertion tube diameter as small as 9.5-mm, SonoScape's ultra slim colonoscopes EC-P550 series offer the agility to treat children or patients with challenging anatomies in confidence.
X-2200 Pro is our first compact system. It operates with an integrated 2-LED light source and is designed for frontline healthcare professionals. Inheriting the technology know how from large successful models, it brings the same high-definition experience found in the most premium endoscopy units.
2 Connecting Professionality around the World

With the belief of "Together Reaching A New Height", SonoScape has been collaborating with the world's leading experts and hospitals to innovate and release revolutionary products.
In Medica 2022, professionals and visitors are highly engaged in SonoScape showcases. We are proud to hear the voice of some of the frontline clinicians.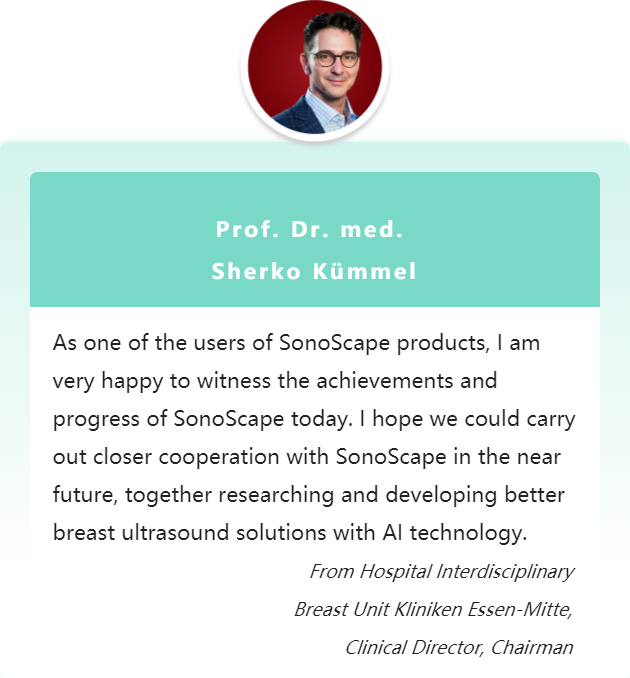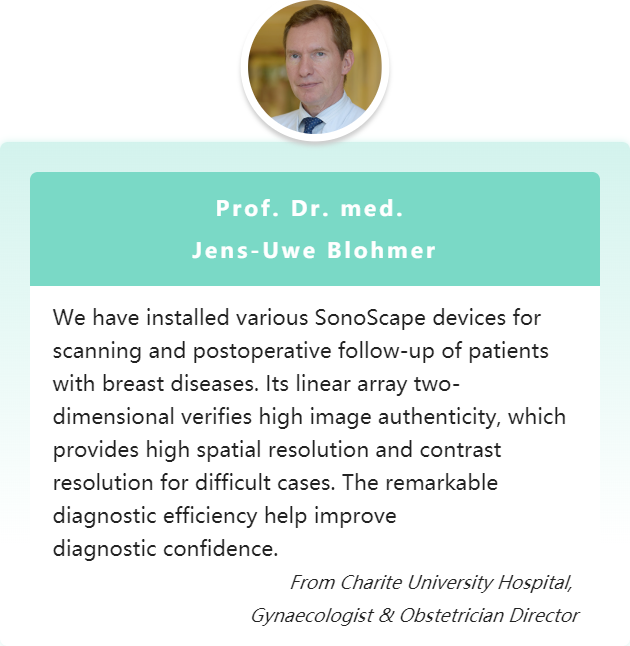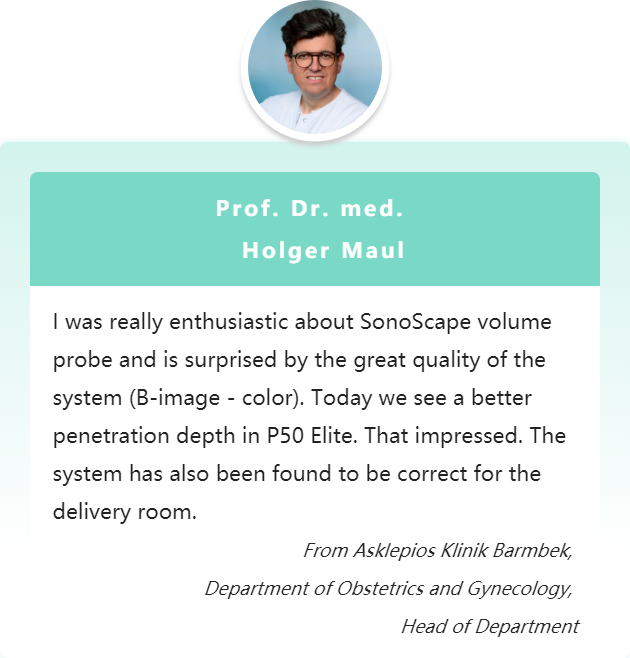 Additionally, SonoScape's specifically-designed solution shows its strength in enhancing diagnostic confidence for medical practitioners all over the world. While we are in Germany, we'd like to show our performance in local institutes, namely Charite University Hospital, Duisburg-Essen Kliniken University affiliated Essen-Mitte Hospital, Asklepios Clinic Hamburg Barmbek, etc.
3 Solid Partnership Leads Us Further

We value friendship; we value cooperation. We appreciate solid partnership, which leads us further, with our friends. To toast SonoScape 20 years anniversery and the opening of Medica 2022, we hold an appreciation event and dinner party to celebrate collaboration and championship.


4 Preeminence & Innovation

At SonoScape, we are determined to respond to the practical needs of the world and help medical practitioners climb the ladder of technology for better patient outcomes.
Just as this well-renowned city has witnessed the flourishing progression of the medical forum for more than 40 years, in SonoScape's remarkable 20th anniversary, SonoScape will continue to perform as a responsible healthcare provider sharing insights and opinions that blossom into a vivid memory of Medica 2022.