SonoScape Animal Health Solutions Now Include Endoscopy
1970-01-01 08:33:42
SonoScape made its veterinary endoscopy portfolio début with the
AAEP (American Association of Equine Practitioners)
annual convention. Following the long-established ultrasound product line, we are further strengthening our position as a global Animal Health medical device provider.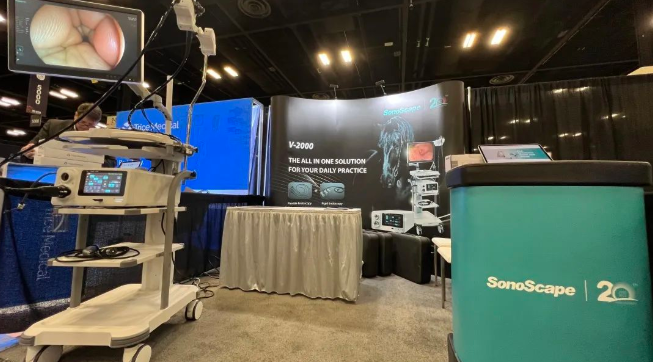 SonoScape at AAEP Annual Convention
As the show's subtitle "Blazing new trails in equine practice", SonoScape delves into new territory to become an agile and thorough partner for animal health. Last week in San Antonio, TX, USA, the stage was set for enchantment for old and new customers. SonoScape brought in its Endoscopy Solutions for veterinarians in the spotlight: a compact, brand new video system centre, flexible and rigid endoscopes, and camera heads.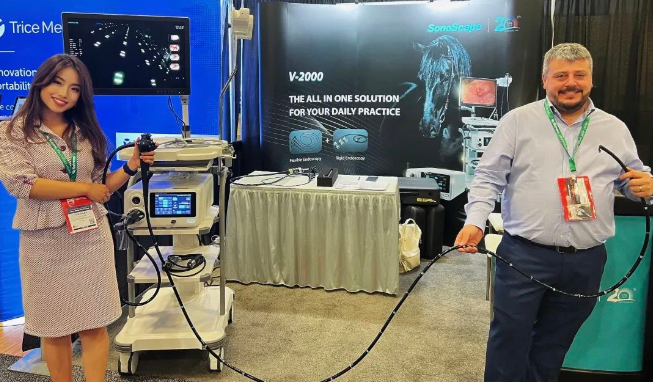 The 3.3-metre gastroscope on display at the AAEP, offering veterinarians a promising tool of diagnosis and treatment in large animals' digestive tract like the equines'. In the same portfolio, a medium and a small flexible scope can also be found.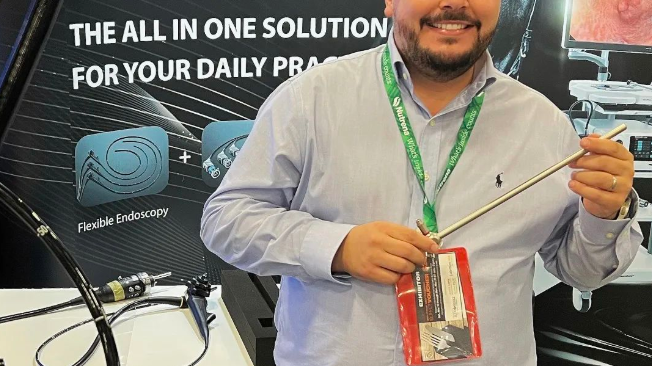 Sonoscape's veterinary endoscopy solution is compatible with flexible, rigid and fibre scopes. A rigid telescope is on display.

Benefiting from more than 20 years of technological know-how, and from an long-established name of its ultrasound products, SonoScape now is one of the handful of companies that offers two most common tools used in the veterinary practice, encompassing a large array of veterinary operations, and answering the needs of a variety of species, from small to large – whether furry companion, farm or exotic animals.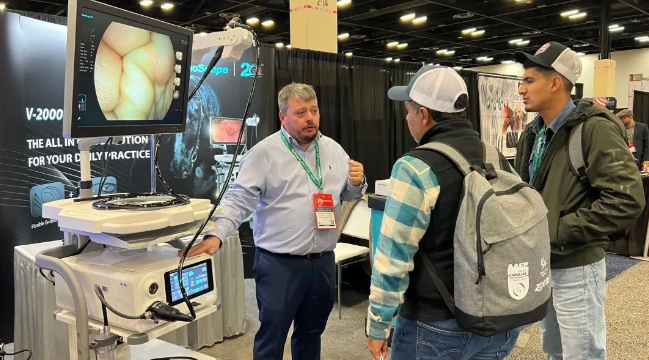 Showcasing the V-2000 video system centre
In SonoScape's exquisite adaptation from its human-used endoscopy towers, the veterinary solutions' key unit, V-2000 video system centre with integrated 2-LED light source outputs FHD images, and they certainly have caught the visitors' attention first - "outstanding", as one of them commented - followed by the machine' sleek design with an intuitive tactile screen. The system accommodates both flexible and rigid scopes, such thoughtfulness was appreciated by the crowd. Last but not least, the scopes' fine manoeuvrability and competitive parameters convinced animal doctors and industry partners from the Americas.